H-Square社よりNAGASEグループとの取引30周年記念の表彰
2012/10/29
30 YEARS ANNIVERSARY SPEECH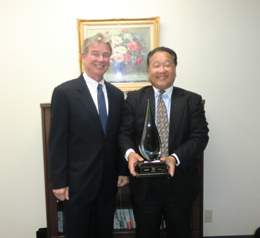 It is my honor and pleasure to be here today to commemorate our 30 years of doing business together. This is truly remarkable that while H‐Square and Nagase are 5000 miles apart we have managed to keep a close and trusting relationship.
For this relationship is more than just business. I have personally benefited by getting to know so many Nagase people. After 30 years many have retired and many others have gone far in the Nagase group far from the freshmen when I first met many of them. In the early years I believe many Nagase salespeople enjoyed working with H‐Square as it gave them the opportunity to gain overseas business experience with an American company.
The founder of H‐Square, Howard Hendricsen, didn't like to travel, but he always tried to come to Japan for Semicon in December. He enjoyed bringing gifts to the Nagase office ladies and they nicknamed him Santa Claus for his yearly gift bringing.
Coming to Japan several times a year afforded me many opportunities beyond business. I have travel from Sapporo to Kyushu Island many cities between. The hospitality and food has been wonderful. No wonder as Japan has 335 Michelin stars as compared with Paris which has only 85 stars. As a world traveler, I am often asked where my favorite place to go is and the answer is clearly Japan. Japanese customers are very demanding for high quality and fast delivery. We are proud that H‐Square has been able to satisfy these demands over so many years. And I am confident even as wafer size is growing to 450mm, we will continue to deliver superior products and be an important supplier for many years to come.
So it is my pleasure to present Nagase Corporation this crystal statue as a memento of our long relationship. It symbolizes the successes of the past and a bright future for many years to come.
Congratulations and domo arigtoo‐gozaimasu